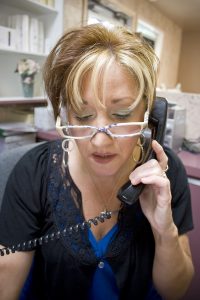 Many dentists don't realize how important it is to have proper phone etiquette. I cannot believe that some offices still use an answering machine during business hours. If you have inexperienced staff members answering the phone, you will make the wrong impression and lose potential business.
The first contact a prospective patient has with your office will set the tone for all future experiences that patient will have with your practice. This is so important that proactive businesses refer to the receptionist as "Director of First Impressions."
There is a lecture by the Madow Brothers on building a successful dental practice. They recommend the
A-L-A-S-K-A method of answering the phone.
A – Answer the phone promptly (2 rings at most) and correctly. Their suggested greeting: "thank you for calling Smile Dental. This is Anne speaking. I can help you."
L – Listen. Don't rush the caller. Be patient and listen to every word. You don't want a caller to feel they have reached a switchboard.
A – Analyze the problem. Consider the call as if it is an initial consultation; however, ask only a few questions;
S – Solve the problem. Don't just answer the questions. Staff should be trained to probe further,  determine the caller's true need and then make the appropriate recommendation.
K – Be kind. Statements like, "we are so glad you called" convey empathy and enthusiasm and will make a patient know you care.
A – Action. The call should always end in an appointment.
Above all else, you want the patient to feel good about the call and to look forward coming to the practice. It would be interesting to track "lost opportunities" in the same way you track new patients. Keep a log of prospective patients who call the office and note which ended up making an appointment.